3rd February 2023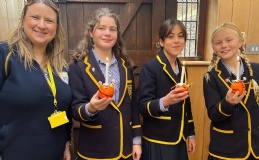 This week we have been busy preparing for our Open Event which took place this morning.
We had our largest number of people in attendance so far, with 18 families visiting the school. The Year 6 pupils were expert tour guides for the prospective parents and they all commented on just how well the children came across, which was wonderful to hear.
Music
Thursday this week was a rather musical day with the Chamber Choir singing at St Mary's church at their Weekday Eucharist service. The service was celebrating Candlemas which, at 40 days after Christmas, is an important time in the Christian calendar. The children sang beautifully and the parishioners enjoyed engaging with them afterwards.
After school, a number of pupils in Years 5 and 6 performed in another of our Tea Concerts to their parents in The Studio. They all played or sang beautifully, making their parents and Mrs Pedley very proud!
Meet the Head
Thomas Garnier, Head of Pangbourne College, visited us on Thursday morning for coffee with those parents interested in Pangbourne as a senior school option for their children. Our next 'Meet the Head' session will be on Friday 10th March with Will Le Fleming, Head of The Abbey School (Girls, Day) in Reading. Please click here to attend.
Sport
Well done to all those who played in the U10 and U11 netball matches this week. There were some fantastic results which can be seen in the match report below. Year 4 are off to play St Piran's away this afternoon and Year 3 are playing St Piran's at home. Good luck to them all, and to the boys in Year 3 who are heading to Crosfields for their first rugby fixture of the term.
The 11th June sees the return of The Little Welly – an exciting outdoor obstacle course for children aged 4 upwards. The organisers have kindly offered us a 20% discount on ticket prices, plus free parking and a dedicated start time, if 50 or more Rupert House pupils attend. We are also going to be introducing an option for the children to be sponsored by friends and family to raise money for our school climbing wall. See more information here. Please let us know by Sunday 19th February if you are interested in your child/children taking part by completing this form.
Finally, good luck to everyone taking part in the Shiplake Cross Country tomorrow morning. I shall see you there to cheer you on!
Mobile phones
I would like to remind parents that mobile phones should not be used in and around school at any time, including at morning drop off. If a visitor or parent/carer is seen using their mobile phone or device, they will be asked to switch it off unless it is an emergency. This is for safeguarding reasons and is detailed in our Acceptable Use policy. Just as importantly, we are keen to set a good example to the children and for it to be as calm an environment as is possible for them. We would therefore ask that work and other important calls are made offsite.
School video
Last summer we filmed a short promotional video for the school. A lot has changed since then but we still feel that it gives a great insight into life at Rupert House for prospective parents. You can watch it here.
The final week before half term is set be a busy one. Next Tuesday is Safer Internet Day when the children will be talking about various aspects of online safety. The theme this year is 'Want to talk about it?' We are also very much looking forward to the finale of the House Music competition on Friday, which will lead us into the half term break on a high!
With best wishes,
Nick Armitage