30th September 2022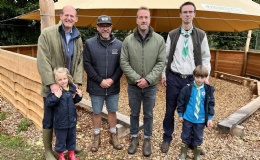 There is a distinctly smoky smell wafting around the school this afternoon, quite a lot of mud has been trodden into the carpets and many of the children are sporting war paint on their faces
This is evidence of outdoor learning at its best, and it was wonderful to involve all the children this morning in this fun.
Forest School Opening
Everyone is now back at school having had a wonderful time at Forest School this morning, where we were very fortunate to have Ben Fogle come and inspire the children and open the recently redeveloped site. Ben spoke about the importance of enjoying being out in nature, of adventure, and of just how fortunate the children were to have such fantastic facilities, which he also said were the best he has seen!
The children enjoyed exploring the site, climbing trees, making dens, playing in the bug hotel and seeing the new pond which has recently been completed. There were art and sports activities taking place, songs were sung inside the new canopy area and there was even an orienteering challenge for the children to undertake. The highlight I am sure for most of the children was toasting marshmallows and drinking hot chocolate around the fire, and I can include many of the adults in that as well.
Please see the link to the video and photo gallery in the news story below. We are planning a parent coffee morning up at Forest School so that you can see first-hand what the children are enjoying, and details of that event will follow soon.
Macmillan Coffee Afternoon
Thank you to the Friends and our catering team for organising this afternoon's fundraising event which was raising funds for Macmillan Cancer Support. Our thanks also to all the parents who provided delicious cakes and to the children for their enjoyment of them!
There were some very exciting sports fixtures this week and well done to all of those who took part. Best of luck to everyone competing in the Chiltern Edge Cross-Country tomorrow and for those taking part in the Hawks Rugby Festival and other events over the weekend.
With best wishes,
Nick Armitage