2nd December 2022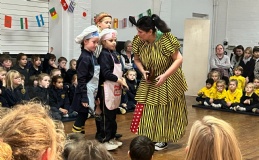 What a wonderfully festive week we have had at school. Once again, our colourful, Christmassy windows have set the tone for life behind the Big Blue Door.
Thank you to Mrs Poulter and her Year 6 elves for bringing a popular Christmas story to life for their fellow pupils and the local community to enjoy. Please do remember to enter our Christmas Window Competition which closes at 3pm on 8th December if you would like to.
On Monday we were joined by Reverend Sam Brewster and Peter the Turkey from Trinity at Four for a wonderful Christmas assembly. Much to Turkey's relief, he and the children learned that he was not the most important thing about Christmas – rather that it is about celebrating the birth of Jesus!
The Pre-Prep children have been busy rehearsing both their plays, culminating in an exceptional performance of the KS1 play this afternoon, with another showing to come on Monday at 2.15pm preceded by the final production of the EYFS nativity at 9.15am. Well done to all the children for learning their lines, songs and routines so quickly and with such enthusiasm.
An active week
Tomorrow morning sees the final of the school winter series Cross Country event at Chiltern Edge school. We're currently sitting at the top of the rankings, so it would be wonderful to have full teams for the final set of races. Good luck to everyone taking part and I look forward to hearing all about it.
On the theme of running, I must mention the Nile house 'runathon' which took place last week. Everyone from Reception to Year 6 played their part in running a total of 26.2 miles (a full marathon) in order to raise money for the Nile charity – Thames Valley Animal Welfare. To date, we have raised over £900 which is fantastic. A representative from the charity will be coming in next week to talk to the children and to receive a cheque for the final amount. Thank you to all the children for taking part so enthusiastically, and to you all for your generous sponsorship.
It was lovely to welcome some of the parents of our pupils in breakdancing club to 'watching week' in the hall on Tuesday and Wednesday. The children showed off their new-found footwork and acrobatic skills, many of which are incredible!
Don't forget to enter the Henley Santa Fun run which takes place on Sunday 18th December. Raising money for local charities, it is a family friendly run, jog, hop or walk by the river next to The Leander Club. The route is either 1km or 4km depending on age, ability, or inclination! There will be awards for best dressed family, best dressed under 10, first place and second place finishers. We had a great turnout from Rupert House last year and it would be fantastic to see the same again this year. Included in the entry fee is a mince pie, a hot chocolate and a Rupert House sponsored Santa hat. What more could you wish for?
The Spring Term clubs list is now on the portal. Please read the letter below and email Mrs Halfhead if you have any additional requests (no later than Tuesday 6th December).
Mugs
Our smart new Rupert House mugs have arrived. If you placed an order, please do come into the office and collect them. We do have a limited number of spares, so if you didn't place an order, but would like to have one, please let us know.
Rupert House future planning forums
You may remember a few weeks ago we asked you to save the date if you were interested in taking part in one of a series of forums designed to share information on the school's current position, our vision for the future and to hear more about what you think Rupert House should include in its development plans. You should shortly receive a letter in the post with more information on these forums and details on how to get involved. They are scheduled to take place on 18th and 19th January 2023.
I wish you all a very merry weekend.
Best wishes,
Nick Armitage, Head