26th November 2021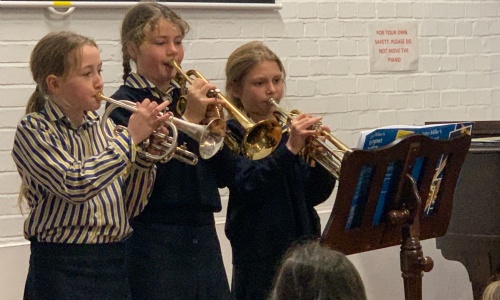 The school has been alive with music this week. On Wednesday morning, Mrs Breen welcomed parents and staff to the first rehearsal of the newly-formed parent and staff choir and was particularly delighted with the very quick progress that was made. On that note, the choir seems to be rather female-dominated and I am very keen to encourage fellow fathers to join me in participating – it is not too late, so do please drop Mrs Breen, or me, an email if you would be interested.
On Thursday afternoon, we were delighted to welcome a large number of Prep School parents into School to hear the musical talents of some of our Prep School children. There were a great variety of acts and I was so impressed by those children who took part – it is never particularly easy to perform in front of an audience and the scarcity of this type of event over the past 18 months, meant that for some, it would have been even more nerve-wracking, so well done. My thanks to all children, parents and staff (and in particular to Mrs Breen) for enabling the event to go ahead.
It will also not have escaped your notice that Mrs Poulter and her little helpers have been hard at work decorating the school windows which collectively tell a well-known Christmas story. If you think you know which one, why not enter our Christmas Window Competition for the chance to win some festive goodies. All information can be found here.
As you will know, we are firmly committed to being central to our local community and, as such, I hope to see as many Rupert House families as possible enjoy the festivities of the annual Henley Late Night Shopping Event today. It will be the first time that I have had the opportunity to attend and I am immensely looking forward to it.
I thoroughly enjoyed joining in with running club on Tuesday morning and I am hoping that as many as possible within the School community will join in on the Santa on the Run on 12th December – more details here – it will be a fabulous, festive way to get fit and is in aid of a number of worthwhile causes.
Following the announcement that Mr Rawlingson is stepping down from his role as Bursar and having taken advice from David Williams of BursarSearch, we are now advertising for a Director of Finance and Operations. If you know of any suitable candidates, all relevant details can be found on our website. We are also currently looking for a Gap Year Student to cover the Spring term and would welcome applications to Mrs Cooke if you know of anyone suitable.
We are very much looking forward to welcoming a large number of our Pre-Prep Parents to the Open Rugby Session for Year 2 on Tuesday afternoon at Henley Rugby Club and our Prep School Open Event on Tuesday evening which will start promptly at 7pm – more details on these two exciting events can be found below.
Best wishes
Nick Armitage, Head