24th June 2022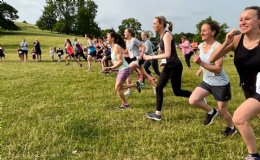 Many thanks for your support of our Sports Day last week, which was a very enjoyable morning for everyone.
The children all took part in the spirit of healthy competition and I was pleased to see the children encouraging and supporting each other, however they had fared. We will be giving out Sportsmanship awards at the final prizegiving. There were a number of very close results and indeed, the overall scores were so. It was also super to see a number of the fathers wishing to show their children how it is done in an impromptu race at the end, and there may well be the call for a mothers' race next year as well!
The Great School Run of Henley
I am most appreciative of all those of you who either helped with or supported The Great School Run of Henley last Saturday. There was a tremendous turnout for the races, with over 250 children and parents taking part. Birte Hayes coordinated the whole event and I am very grateful to her and her team for making it such a success.
Summer productions
There is much excitement building with the upcoming Pre-Prep and Prep productions just around the corner. The Year 6 children were very fortunate to have an actress who has played Matilda on the West End support them on Thursday in addition to the visit of an actor with RSC experience. Both were most impressed with the calibre of the performances they watched, which bodes well for next week!
Move to Think
From Tuesday to Thursday this week, your children all took part in the trial of a concept we will be introducing in September, which we are calling 'Move to Think'. Immediately before starting their first lessons, the children engaged in brief sessions of either Mindfulness, Yoga-based exercises or more intense physical activity, the idea being to stimulate and focus the brain before applying it from an academic perspective. The staff have fed back their observations of the children's experiences and this will help to inform the way in which it is introduced in September. More information will follow in due course, but we hope your children enjoyed taking part in the different activities and we are excited about the benefits this will bring from an academic perspective.
On that note, I hope you have a lovely weekend and I look forward to seeing many of you tomorrow evening.
With best wishes,
Nick Armitage