1st July 2022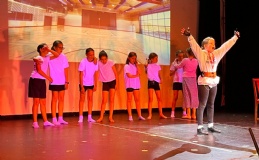 I am constantly amazed at the incredibly high calibre of the school productions at Rupert House and his term is no different.
The Prep School production of Matilda this week was a triumph and every bit as good as the West End version, as stated by an actress who recently played the part of the namesake and who, along with an RSC actor, supported Mrs Breen in preparing the children. Every child from Year 3 upwards played their part onstage with such aplomb, and with great enjoyment, judging by the smiles on their faces!
The evening performances were to almost full houses, and it was lovely to have the residents of a local care home as well as pupils from Badgemore Primary school attend the matinée performance on Wednesday afternoon. Including the Dress Rehearsal, the children performed the musical 4 times in three days, which is an incredible feat of endurance, and not surprisingly, there were a number of tired looking faces in school this morning. We now turn our attention to the Pre-Prep production next week, which, from what I have heard when passing the Hall in the last few days, will be every bit as impressive!
Year 6 Trip to Henley Royal Regatta
Yesterday we treated all of Year 6 to a trip to the Regatta, which they enjoyed enormously, despite the best efforts of the weather. The children dressed up in keeping with the requirements of the Stewards' Enclosure, topped off with their Rupert House blazers, which were very much in keeping with those worn by the rowers. We visited Leander Club and were given a tour of the whole building, including the squad room, the fabulous library, the gym and the boat bays, where we cheered on the athletes as they boated for their races. The children learnt all about what it means to compete for the club and earn International honours, meeting and hearing from those who have done so as well as those who are aspiring to that level of achievement. Following a visit to the Stewards' Enclosure, where they saw the silverware the rowers are competing for and enjoyed watching some of the racing from the comfort of the deck chairs, we joined a boat cruise along the course, before making our way back along the tow-path. We stopped to cheer on Mrs Macartney's daughter, who made a winning start in a very talented young Henley Rowing Club quad, and then arrived back at school after a fascinating day which we hope the children will remember fondly.
Alumni Gathering - Tuesday 5th July
We are looking forward to welcoming back the last two years'-worth of leavers and their families next Tuesday evening for what we hope will be a super way to reconnect with them and for them to do so with each other. With around 90 people having confirmed their attendance, and a BBQ and DJ booked, it should be a fun and enjoyable evening for all.
Picnic Concert - Wednesday 6th July
We hope that you and your family will be keen to join us for the Picnic Concert next Wednesday afternoon, starting at 4pm. It will be a lovely way for the whole school community to gather for one last time at the end of term, in a relaxed and informal way. We will also be saying some thank you's and farewells during a short break. Please bring a rug, some food and drink, and sit back and enjoy the performances!
End of Term - Thursday 7th July
We will be live-streaming an internal prize-giving for the children up to and including Year 5 on Thursday. Will Le Fleming, Head of the Abbey, is then coming to speak and present the prizes to the children in Year 6 in their own separate event, which their parents will be attending. Please see the information below, which details the drop-off and pick-up timings for that day, and other important details including how to watch the live-stream if you wish.
Farewell
Today, we say goodbye to Mr Rich, who joined us from Abingdon School and has been an excellent role model to the children and a valued colleague in his position as a GAP student with us for two terms this academic year. He is heading abroad to brush up on his French before embarking on a Languages degree at Leeds. We wish him all the very best and hope that he will stay in contact.
With less than a week to go to the end of term, I hope that your children have a relaxing weekend before enjoying all that is planned for an action-packed last few days.
Best wishes,
Nick Armitage