13th October 2023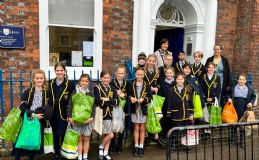 It has been a week full of Harvest preparations. Thank you to everyone for your incredibly generous donations to the NOMAD foodbank.
The Year 6 children took over 100 bags and boxes to the D:Two Centre, where they learned about how the foodbank works and how the school's donations will help people in the local community. The children were also busy practising their songs for the Harvest Festival which I hope you enjoyed this afternoon. There are just a few things to inform you or remind you about as we head into the half term break.
World Mental Health Day
The children kicked off World Mental Health Day on Tuesday with a singing assembly which lifted everyone's spirits. Finishing with the Prep Choir singing 'I can see clearly now' seemed very appropriate. Staying on the theme of Mental Health, the Prep children had a talking prep that night in which they were encouraged to use a booklet as a guide for conversations with yourself about their feelings.
Independent School of the Year Awards
On Tuesday this week, Ms Nicholson and I attended the 'Independent School of the Year Awards' in London, which are judged by a panel of current and former Heads. Rupert House was a finalist in the 'Outstanding New Initiative' category for our 'Move 2 Think' programme. Unfortunately, we didn't win, but we were the only Prep school in the category and indeed the local area to be finalists in any of the award categories and given the number of entries, we were very pleased that the initiative had been recognised nationally in this way.
Headington School visit
I enjoyed visiting Headington on Wednesday to catch up with our four former pupils who started there in September. The girls are thoroughly enjoying themselves and are busy on all fronts. It was fascinating to hear how Headington is embracing A.I. and also to quiz the Headmistress, Caroline Jordan, about their planned merger with Rye St Antony, which is a very exciting development for the school.
Bouldering wall
On Monday 30th October we shall be officially opening the bouldering wall which was kindly donated to the children by FoRH and of course a result of generous contributions by you all. Garth Miller, a local pilot and explorer, who met the children previously ahead of his recent Everest expedition, will come and speak to the children and open the wall at 8.45am. Parents are welcome to attend if you wish to do so.
Chiltern Centre Ball
This year is the 20th anniversary of the Chiltern Centre and there is a charity ball being organised on November 11th. They desperately need auction of promises gifts and also have non-dining tickets for sale for £30. This is a fantastic local charity which the Friends are supporting this year alongside Fund a Future Uganda, so it would be super to have some Rupert House parents there. Please find more information here.
Oxford Half Marathon
A number of parents and staff are looking forward to running the Oxford Half Marathon on Sunday and best of luck to them all, following the super turnout at the Henley Half and 10km last weekend, as well as the Fun Run. If you would like to join the group, Rupert's Troopers, please get in touch with the Office so that we can add you to the WhatsApp group. As a group, we arrange to take part in events such as the Tough Mudder, running races, swims and triathlons. People of any fitness level are welcome!
I hope you all have a relaxing half term break.
Best wishes,
Nick Armitage