11th November 2022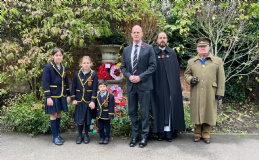 It seems very appropriate that today, Remembrance Day, is also World Kindness Day.
In our assembly on Monday, I talked about the importance of remembering and learning from the past and the sacrifices that others have made for our freedom. Today, the children behaved impeccably during our Act of Remembrance, and it was clear they understood the significance and importance of the occasion. The importance of being kind to one another though is key to a peaceful future, be that in school, in our working lives and indeed for world peace going forwards. I do hope our children will be keen to lead the way, given that kindness underpins our school values and plays out in the way that we look out for each other both within the Rupert House community and in the wider environment in and around Henley.
James Shone Talk
After speaking with all of Years 5&6 on Tuesday afternoon, James Shone gave a similarly inspirational talk to parents on staff in the evening. He spoke about the importance of the children inflating each other's 'balloons of self-belief' and of the parents noticing the little things their children are doing well and picking up on them in order to build their confidence in a similar way. We have recorded the talk, which will be available from Sunday HERE once it has finished downloading, and I would very much recommend that you watch it if you were not able to attend in person.
Childnet E-Safety talk - 21st November 7-8pm
I would encourage all parents to attend the above talk, which I am sure you will find very useful, with lots of practical advice about how you can keep your children safe online. The children in Years 1-6 will have talks during the day and it will be very helpful for you to hear what has been discussed with them and the most effective strategies for supporting them online in the parent session. Please sign up through the link below if you wish to attend.
Meet the Head Coffee Mornings
Yesterday we hosted the first of our Meet the Head Coffee mornings, with Tyrone Howe, the Head of Shiplake College, leading the way. It is an exciting time for the school, with the first cohort of girls joining at 11+ in September 2023, to complement the Co-Ed Sixth Form which has been in existence for over 20 years. The Head of External Relations and three Sixth Form students joined Tyrone and spoke about their experiences at the school, which we all found very interesting. Upcoming talks include Caroline Jordan from Headington on 25th November, Michael Windsor from Abingdon on 30th November, and then a number of subsequent schools are being booked in for next term. Please do book in if you wish to attend these talks through the link below.
Year 1 Trip to Windsor Castle
The Year 1 children had a wonderful time yesterday at Windsor Castle, watching the Changing of the Guard, taking part in a fascinating.
Next week
Next week is a very exciting one, with Odd Socks Day on Monday (the brighter the better!), as we kick-off Anti-Bullying Week. Whilst great fun to be dressing up like this, it comes with an important message that we are all different and we should celebrate being so. Friday is Children in Need day, and the children are encouraged to come in wearing home clothes, including something yellow and/or dotty. Please could the children bring in £2 to donate on the day and more information, including the hat competition, can be found below. In addition, there is a Teatime Concert for those children taking ABRSM exams this term on Thursday and the Year 4-6 Parent Evenings.
With best wishes,
Nick Armitage