11th February 2022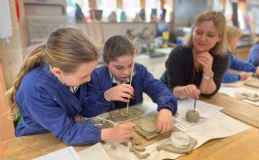 The children have enjoyed the most extraordinary STEAM Week over the past five days, with all manner of fascinating and inspiring events taking place.
STEAM Week
Themed around the concept of 'Growth' in the STEAM subjects (Science, Technology, Engineering, Art and Maths), we had visits from a local interior and exterior designer, who led a terrific assembly and helped the Year 6 children create plans for a legacy garden, a beekeeper, who spoke about the importance of bees to the environment and an adventurer, who is planning to travel from Henley to the summit of Mount Everest and back in 14 days (and contact us from the summit!). All manner of fascinating science experiments took place, with the Year 6 children also teaching the Year 1 classes all about bacteria. Year 5 created fabulous ceramic tiles at Shiplake College and we had a visit from a local author and illustrator to introduce her latest book, which is all about the environment and how we can be more eco-friendly. The children built all manner of fabulous creations in the junk-modelling sessions and Reception had a fun afternoon with Mr Whitfield designing and making wind chimes in the DT room. Sadly, two of the trips had to be postponed because of COVID, but we are in the process of rescheduling them at a later date. I am most grateful to Mrs Fletcher for coordinating such a fabulous week and to all the staff who worked together to make it such a success.
Sport
The children had another successful week of fixtures against Chandlings, Oratory Prep and Lambrook and we continue to punch well above our weight against these considerably bigger schools. Most importantly though, win or lose, the children are good sports, which staff from other schools invariably comment upon. As we look ahead to their first competitive fixtures in Year 3, the Year 2 children are excitedly preparing for their Football Festival in the second half of term, while a Rupert House Rugby Challenge is also being planned and a cricket experience is being lined up for the Summer Term. Personally, I am looking forward to taking the Rowing Activity in the Summer Term, with fourteen Year 6 children already signed-up, and I hope to have the opportunity to get back into a boat myself!
I have no doubt your children will be tired after a busy week and I hope you all have a restful weekend.
Nick Armitage, Head