10th February 2023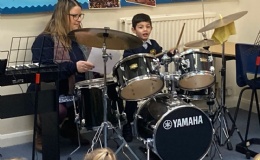 Half term has come around very quickly! We've packed a lot into the first half of the spring term, and this week was no exception.
There have been school wide activities surrounding Safer Internet Day and Child Mental Health Awareness week, numerous external trips and a three-day musical festival which will be culminating in the hotly anticipated House music competition later on this afternoon. All the children have performed their solo pieces so confidently and it has been a pleasure to welcome parents into school to watch them.
Head's Coffee Morning
The next in our series of senior school 'Meet the Head' coffee mornings is with Matthew Judd, Head of Leighton Park (Co-Ed), on Friday 24th February at 8.30am. Please let us know if you would like to attend by completing this form. Future meetings include Will Le Fleming, Head of The Abbey School (girls) on 10th March and Pete Thomas, Head of Reading Blue Coat, on 3rd May.
Centenary
As you may know, Rupert House will celebrate its 100th year in 2024. We are busy planning ways in which we can celebrate as a school community and would love to have your input so that we can suitably mark the occasion and make it a year to remember! We have created this short form for you to complete over Half Term and would appreciate your thoughts and ideas.
STEAM week
This year we will be holding our Rupert House STEAM week from 13-17th March. STEAM week combines Science, Technology, Engineering, Arts and Maths. Our theme this year is 'Sport' and the children will be looking at how the STEAM subjects are applied in sport. If you would be prepared to come in and talk to the children or you have any contacts who would, particularly those who work in the sporting industry or are keen sportsmen and women yourselves, please do get in touch with Mrs Fletcher. Please also see the letter below from Mr Whitfield.
Sports
Well done to all the children who took part in the Shiplake Cross-Country event last Saturday. There was a super turnout and I was most impressed with the children's determination to complete the course. Last Friday, the boys played in their first competitive Rupert House rugby fixture at Crosfields, with both teams winning. Well done to them and all the children who have competed for the school in the first half of term.
We have been given 12 free tickets for the England Men's Under 20 Six Nations match against France at The Recreation Ground in Bath on Friday 10th March, kicking off at 8pm. We are hoping that Mr McArthur's son, Archie, will again be playing, and it would be super to have a crowd to cheer him on! If you would like to attend with your child/children, please email the school office and tickets will be allocated on a first-come, first-served basis. If there is sufficient interest, it may be that we take a school minibus full to the match.
Development Forum feedback
We were most appreciative of the willingness of current and former parents, governors, staff and pupils to take part in the four Development Forums we held back in January, in which we shared our vision for the school and plans for the future. It was fascinating to hear the different aspects the attendees felt we should focus on as a school and there were offers of practical help and advice which we will explore further. Please see the summary below and we would love to hear from you if you were not able to attend but would like to be involved in any way.
The tragic loss of a fellow Head and her immediate family last weekend has brought home the importance of community to us here at Rupert House. Our thoughts and prayers are with Emma Pattison's family and the wider community at Epsom College at this terribly sad time for them.
I hope that your children have a restful half term break after such a busy first half of term, and I look forward to welcoming them back on Monday 20th February.
With best wishes,
Nick Armitage