June News Stories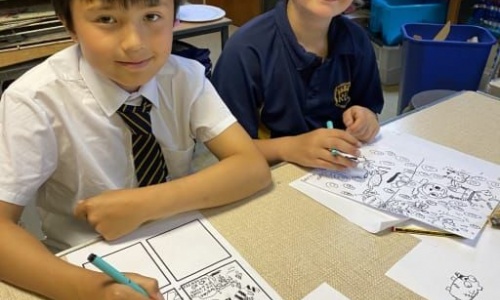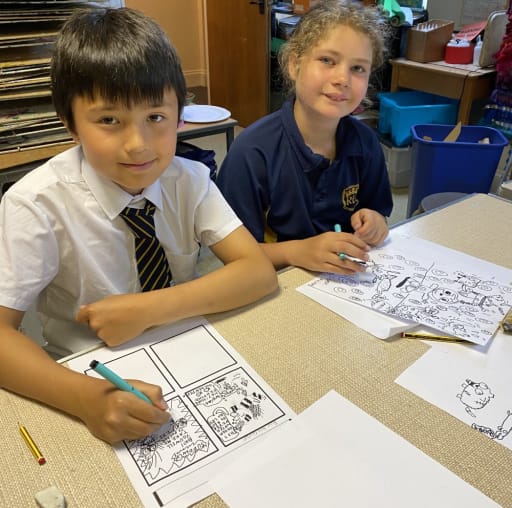 Prep go Cartoon Crazy 18 Jun 2021
The Prep children went comic crazy this morning! They thoroughly enjoyed creating a story about a yeti and an octopus in their super engaging virtual comic strip workshop with James from Crazy Comic Club.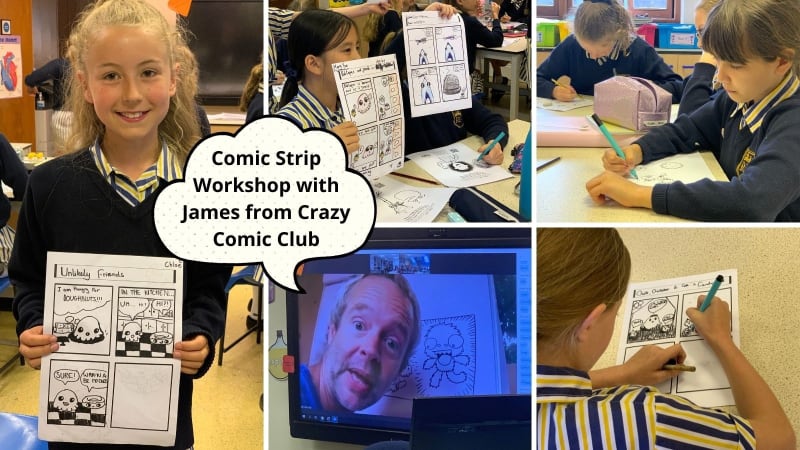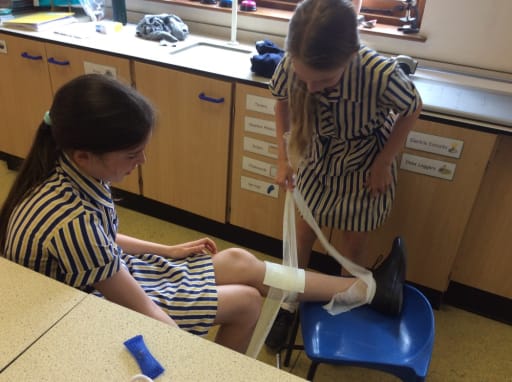 First Aid Matters 17 Jun 2021
Year 6 took part in a morning of First Aid workshops run by paramedic and First Aid instructor, Suzanne Stickley. As well as learning what to do in a first aid situation and how to call the emergency services, the children were taught several important First Aid skills, including how to use a defibrillator. They were able to practise CPR on dummies and had great fun bandaging each other's 'injuries'!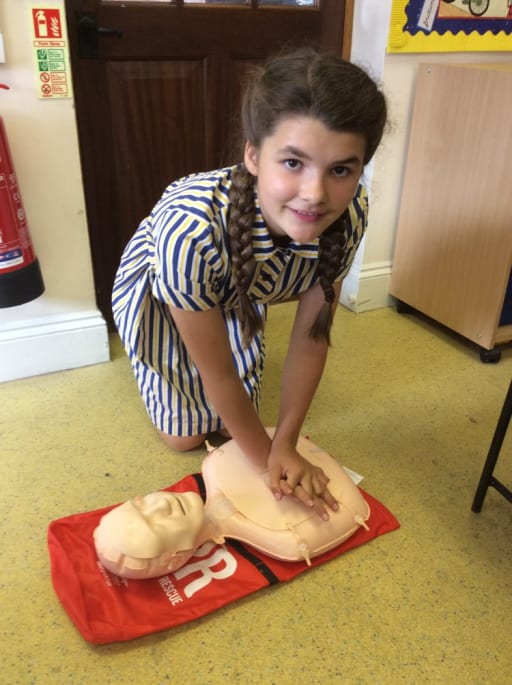 Sunny sunflowers 17 Jun 2021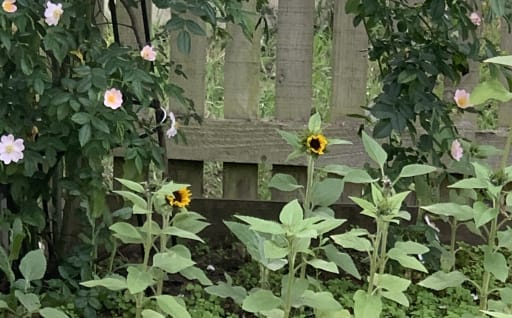 Every pupil in the school planted a sunflower seed on Reunion Day back in March. They have been growing nicely and this week we saw the first two flowers bloom.
Our school pond is also looking really colourful now that we have a number of pretty pink lilies sitting on the surface.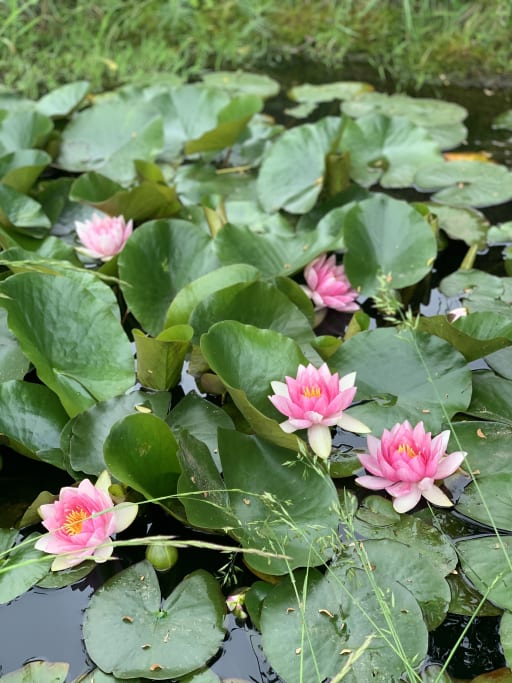 Reception spend a sunny day at Sutton Courtenay 16 Jun 2021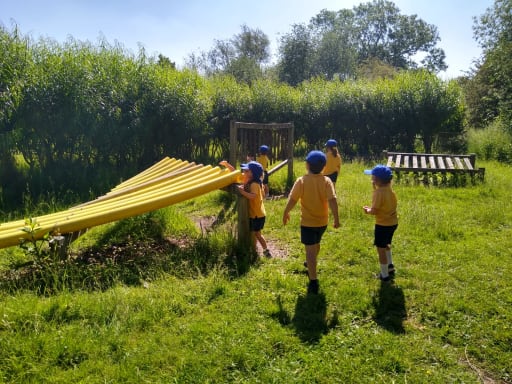 Reception spent a sunny day at Sutton Courtenay Environmental Education Centre this week. The children had lots of fun exploring and having a go at all the activities organised for them throughout the day.
They went on a nature walk, using their eyes and ears to see and hear the wildlife around them. They saw rabbit holes, caterpillars and ladybirds, and could hear lots of birds singing in the trees. The children also had a go at being moles (blindfolded and using their touch sense they had to navigate around a course of trees using ropes as guidance), and got up close to some sticky bugs!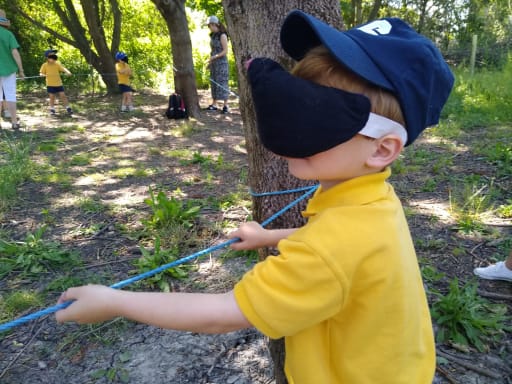 A little bit of France at Rupert House 16 Jun 2021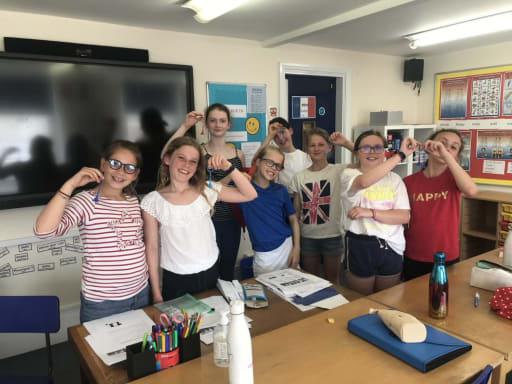 Bonjour tout le monde! Year 6 weren't able to go on the annual trip to France this year, so our specialist French teacher, Madame Sheriff, brought France to Rupert House.
Dressed in the colours of the Tricolore, they enjoyed a treasure hunt (solving clues in French), a French menu for lunch and "a little bit of France" was incorporated into their daily lessons. C'etait formidable! #france #ruperthouse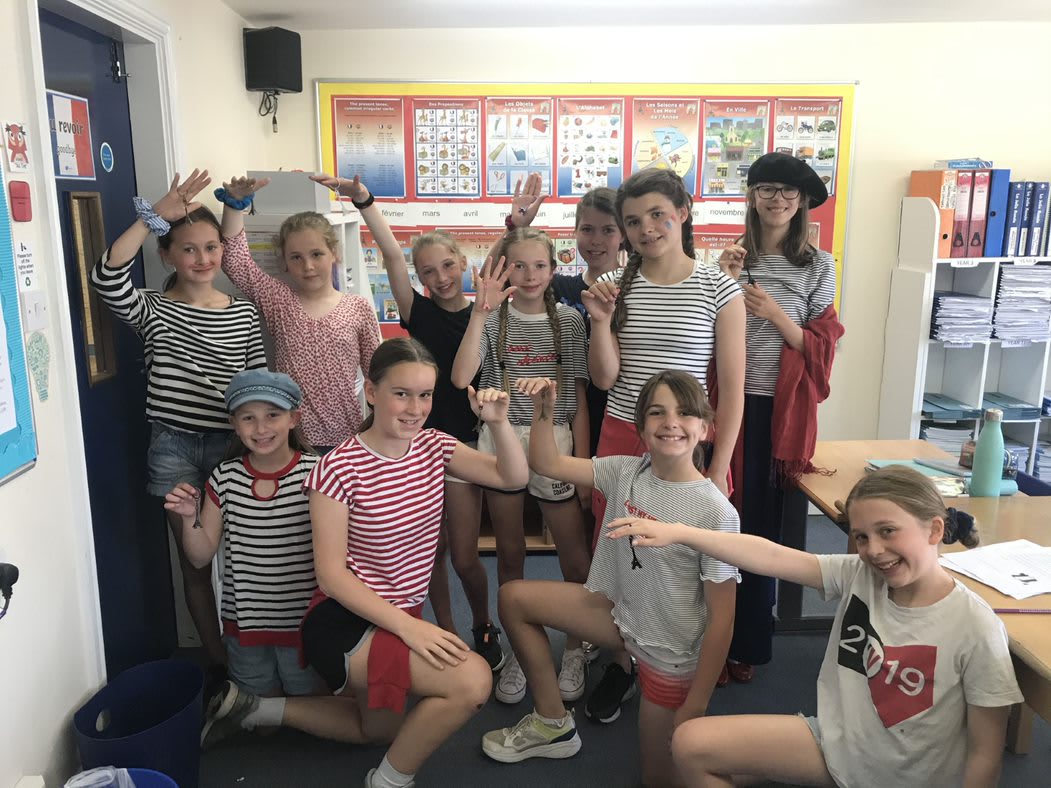 This week, Holly is artist of the week 16 Jun 2021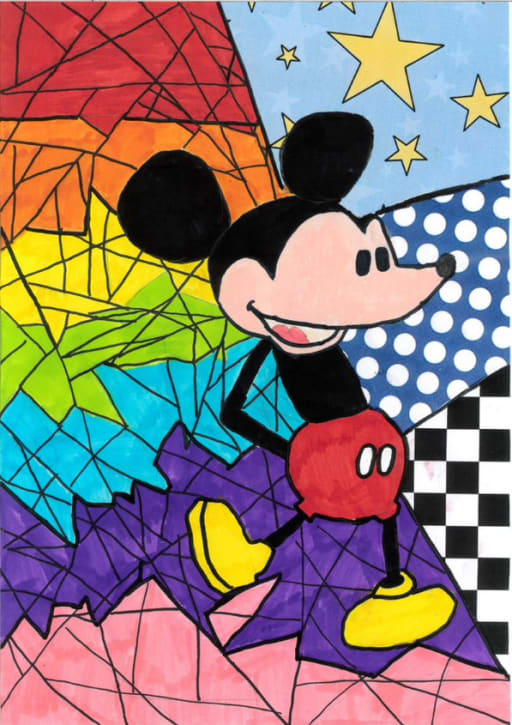 Our Artist of the Week is Holly in Year 6, who worked in the style of Brazilian pop artist Romero Britto, using vibrant colours and angular patterns as a visual expression of hope, dreams, and happiness. A really successful piece, Holly!
Year 6 spend a fun-packed week at PGL Osmington Bay 11 Jun 2021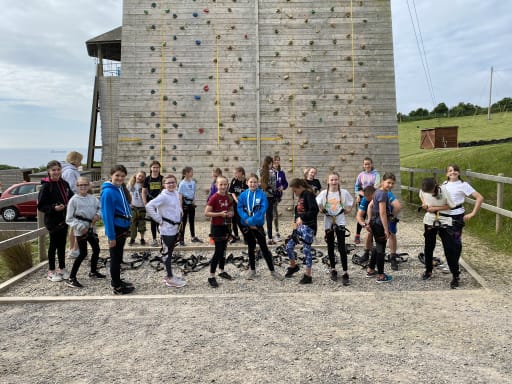 What a week year 6 had at Osmington Bay PGL! Among the activities were climbing, orienteering, abseiling, raft building, sailing, beach fun, zip wiring, survival skills, buggy building, and the giant swing. Over the fun-packed week, every single person faced fears, overcame challenges, laughed (a lot!) and were complemented by staff for their impeccable behaviour and manners.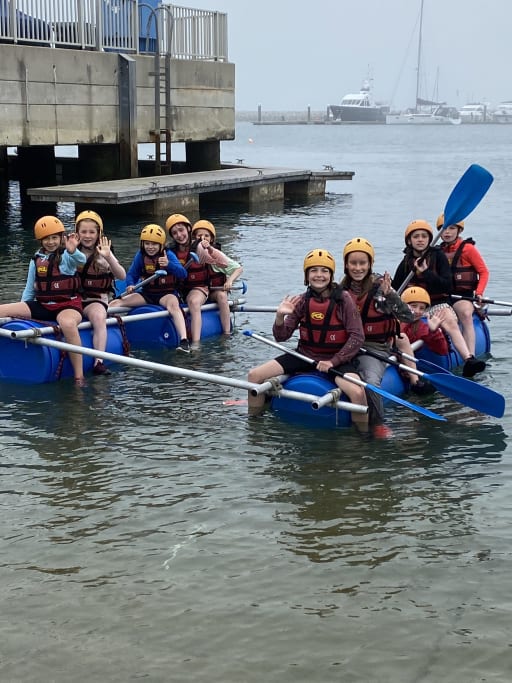 Introducing My School Portal 10 Jun 2021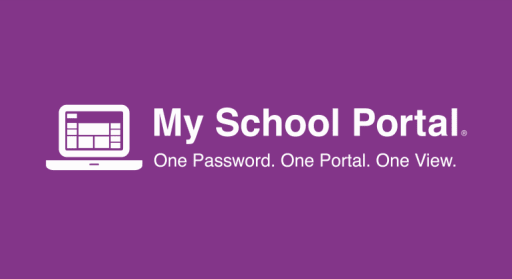 Investing in Better Communication, Rupert House is delighted to announce that we have signed up to the market-leading school and parent communications platform My School Portal.
My School Portal is an online system designed to streamline communications between our school and parents, by bringing all information and services together into one easy-to-use dashboard. Parents and guardians will have instant access to information about their children, such as school timetables, sports fixtures, activity bookings, exam results, and school reports.
All information is accessed securely online using one username and password, and is accessible via your desktop, tablet, or mobile device.
All student information is shown on one dashboard, so you won't have to log in to multiple services to see what you need.
All communication is displayed in the portal. Emails are stored and displayed in the 'My Email' section, making it quick and easy to retrieve and receive information.
We are very excited about this new system and look forward to implementing it in time for the start of the new school year in September 2021.
Full details and information on how to use the system will be given once we are ready to launch.
Year 3 enjoy a day trip to PGL 10 Jun 2021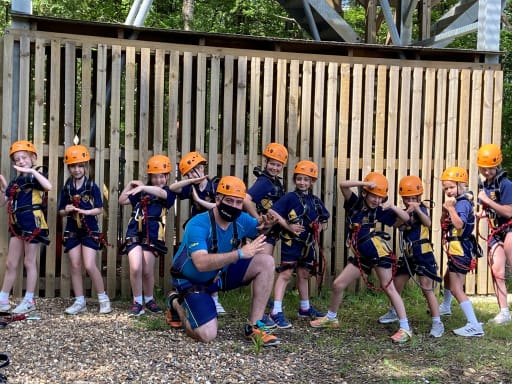 Year 3 went on a wonderful trip to Marchants Hill, Hindhead this week in the glorious sunshine. The children went on a zipwire, obstacle course, climbing wall and finally a low rope challenge. Each activity needed an element of courage, resilience, team work at also creativity. The children displayed all these qualities and it was a pleasure to take them away for the day. A big thank you to Mr Armitage and Miss B for coming with us on our trip.
A busy week for Reception 10 Jun 2021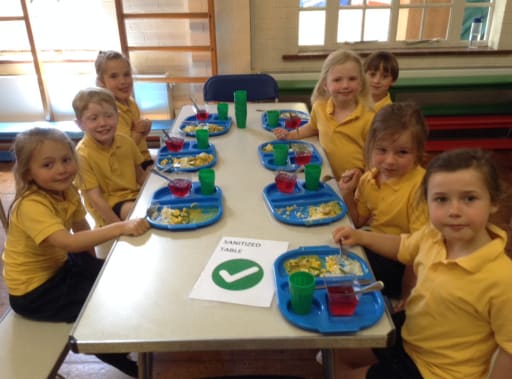 This week has been an extra busy week for Reception. With various year groups from Prep away on trips, we were lucky enough to have a cricket lesson with HCC one afternoon. The children loved learning to throw and bat and thoroughly enjoyed a taste of what is to come in Year 1. But, the highlight of the week was, without a doubt, eating lunch in the hall! Traditionally Reception would eat in the hall but due to Covid we have been eating in our classrooms. The children were amazing and carried their own lunch tray from the serving hatch to the table and they ate very well. Some even went up for seconds!
Swallows and Amazons 9 Jun 2021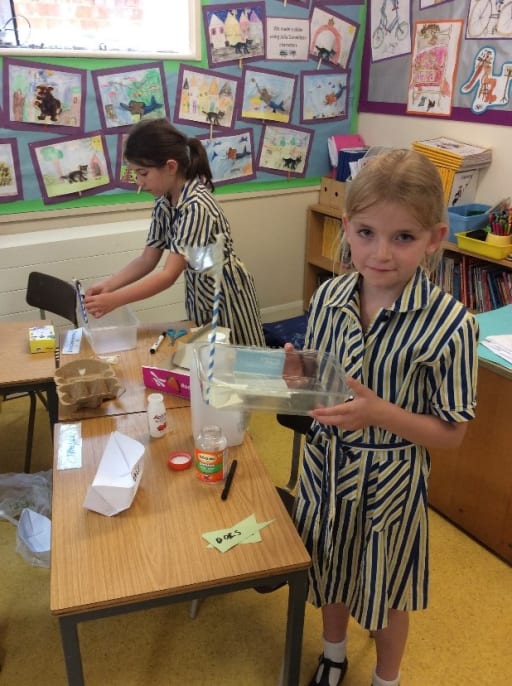 Year 2 have been reading the book Swallows and Amazons. Today we designed and made our own boats and we will be testing them in our science lesson later this week.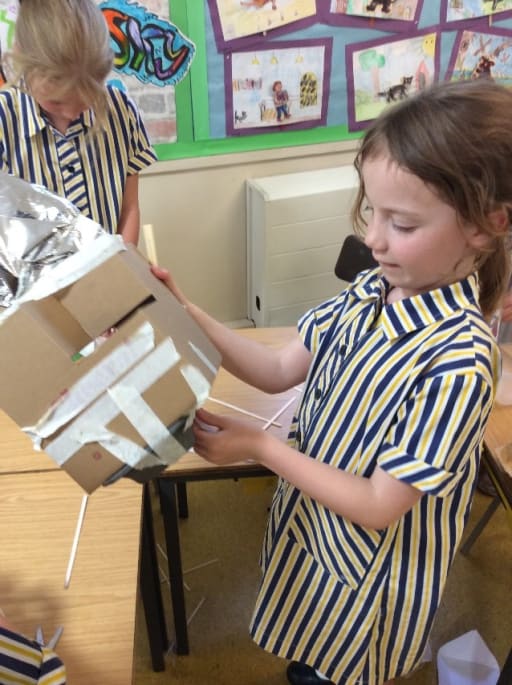 Year 4 PGL Trip 9 Jun 2021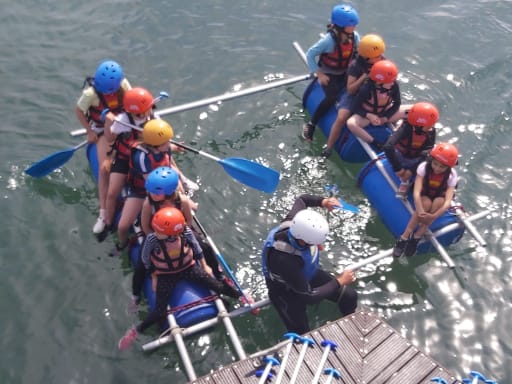 Year 4 had an amazing / awesome / incredible / fantastic time at PGL this week! They championed the school values of courage, creativity, resilience and respect whilst braving the zip wire, playing wacky race games, building and launching rafts into the sea, flying high on the giant swing, scaling the heights of the climbing wall and creating a disco in a bedroom! Everyone smiled, laughed, cheered and sang and threw themselves into all the activities. Miss Jones, Mrs Trimmings and Mr Baxter could not be prouder of them. Well done, fantastic Year 4!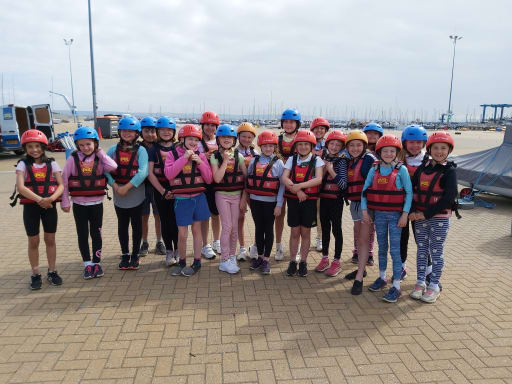 Year 1 visit Cotswold Wildlife Park 9 Jun 2021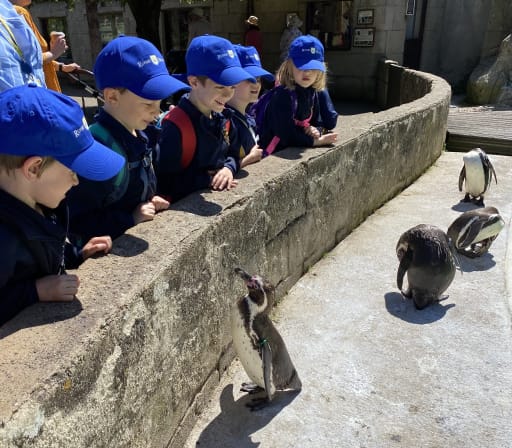 Year 1 had a great day at the Cotswold Wildlife park today. We loved having the freedom to explore and saw all kinds of animals. We had talks with the park keepers about conservation and have learned a little bit about how we can protect our planets amazing animals. One of the best bits was the incredible adventure playground, we had so much fun! Finally we cooled off with an ice cream before heading back to school…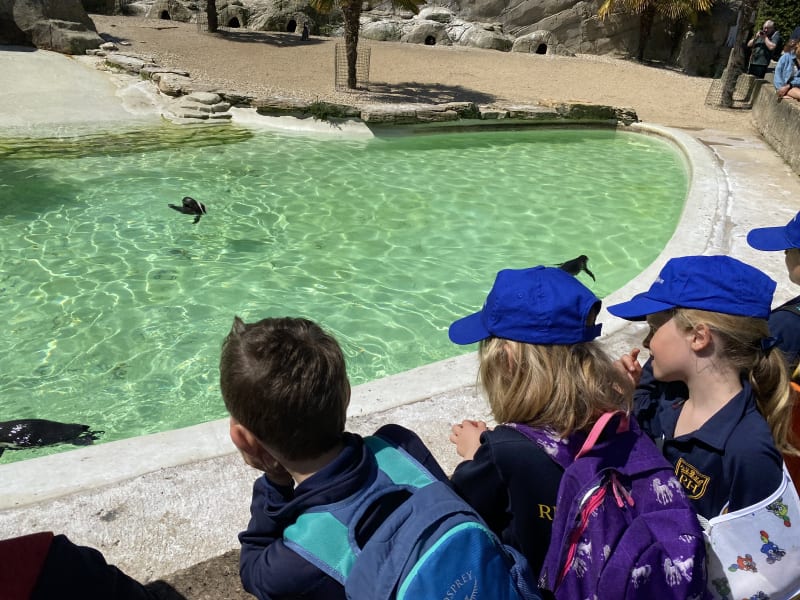 Well-being Wednesday assembly 9 Jun 2021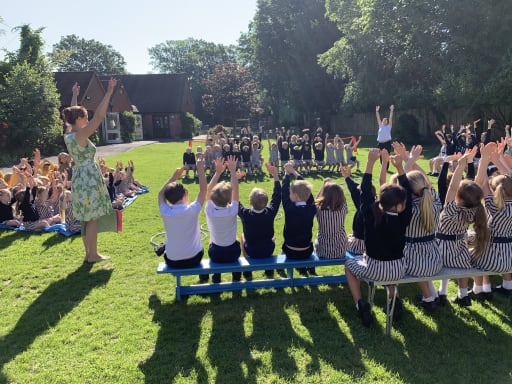 We made the most of the beautiful weather this morning with a 'Well-being Wednesday' assembly outside on the lawn. With Year 5 about to start their exams, Mrs Newman talked about feeling happy, healthy and managing stress, about looking after ourselves, and each other.
We did some breathing exercises and some of the children were given cards with letters on - they all worked together to figure out what word they spelled out.
Trying our best
Obeying the Rules
Getting our work done
Expressing our ideas
Thinking kind thoughts
Helping others
Enriching our minds
Respect each other