Big Cheer for End of School Bubbles Live on Heart FM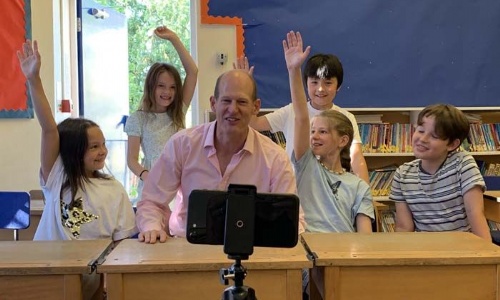 How excited are you about the end of class bubbles? This drew a big cheer from Rupert House School pupils and Headteacher Nick Armitage when they were asked about this on Monday morning by Jamie Theakston on Heart FM radio.
Mr Armitage spoke to Jamie Theakston and Zoe Hardman about what the lifting of the coronavirus restrictions means to schools in general, and to Rupert House. Mr Armitage was joined by pupils Alise, Fallon, Mamie, Oscar & Oliver.
Headteacher Nick who only started at Rupert House School in September 2020 was asked what the last school year has been like. He replied, "It feels like it has been like 5 years in one. It's been incredible and it's been nuts. The children have been absolutely amazing, the staff and parents have been so supportive as well. It has been an experience for all of us and the children are still are smiling, the staff are still standing and staff all over the country have done an incredible job in this time."
Everyone is looking forward to returning to school in September without bubbles. Nick commented, "Whilst we have been able to have the children back in the school, having the bubbles in place has seen so many aspects of school life that have changed. We had to keep groups apart which was a really different experience. The young children like to be with the older children, it seems so unnatural to keep them apart."