10th September 2021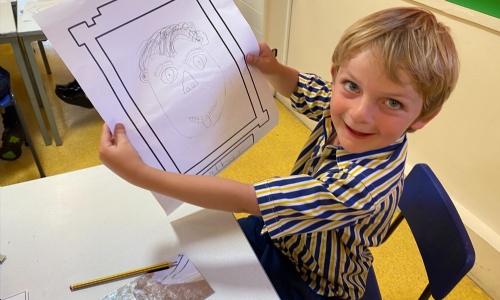 We very much enjoyed welcoming the children back to school on Wednesday morning, and they have been so kind in helping our new starters to settle in smoothly.
The glorious weather helped and meant that we were able to start the term with an outdoor assembly on the lawn for Years 1-6, while the Early Years settled into their surroundings.
I encouraged the children to think about what their targets might be for the year, be that adjusting to new surroundings, trying new clubs, activities and sports, developing new friendships or simply making the most of every single day. Most importantly, I asked them to consider how they can be kind to others, thinking of those around them and supporting them when in need.
With that in mind, I am most grateful to our form reps for helping the new parents and children settle in and for the support they have given them around the start of term.
For our brand new parents and those parents who joined the Rupert House Community in the 20/21 academic year, there will be a coffee morning on Tuesday 21st September from 8.15am-9am in the School Hall and a separate communication about this will follow asking parents to RSVP for catering purposes.
Our new parents will also be invited to the postponed Friends' Summer Party which takes place from 7.30pm on Thursday 30th September, further details about which you can find out from your class rep.
In addition, we will also be hosting Tuesday year group coffee mornings in order to give all our parent body the opportunity to come into school. Dates for these will follow.
It is wonderful to be able to welcome our parents back into the school and, with this in mind, In addition, we will be hosting Tuesday year group coffee mornings so that we have the opportunity to engage with all our parents.
We were delighted to welcome our new staff, who have all settled in very smoothly and have enjoyed their first few days of getting to know the children. Mr Whitfield has taught his first few Design and Technology lessons and he is brimming with exciting ideas of ways in which the subject could and should work alongside the other STEAM (Science, Technology, Engineering, Art and Maths) subjects as well as in the wider curriculum. This will build on the exciting week we all enjoyed on that theme last term, where our parents who work on these fields gave inspirational talks on such topics as Volcanoes, the importance of inventing, how our rail network works, the fascinating world of Formula E and one of the chief Mclaren race engineers speaking about Formula 1 the day before he flew to Monaco for the Grand Prix!
The drop-off system in the morning seems to be working more smoothly now and we are most appreciative of the understanding you and your children show towards our neighbours, who are understandably impacted by our presence in the mornings and afternoons. A number of you with older children may wish to use the drop and go system, whereby you may stop outside the front of the school and a member of staff will open the car door to allow your child to exit and enter the school without you needing to park your car. This will be operational outside the front of the school from Monday. Please read the note below to ensure this system works smoothly for everyone.
I have no doubt your children will be tired at the end of their first few days back at school. Whether they have joined the school or have moved up a year group, we understand this it is quite an adjustment for them to make. I hope you all have a restful weekend and that your children return on Monday, raring to go again!
With best wishes,
Nick Armitage