Year 5 learn about landscapes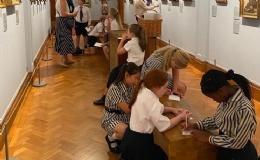 Year 5 enjoyed an informative trip to the Ashmolean Museum in Oxford this week.
The children took part in an amazing a guided session teaching them about landscape painting throughout history. They were taken through the gallery on a journey through time, finding out what a landscape is, and how landscape paintings have changed over the years. They also explored the materials and techniques artists use.
Amongst other activities, the children explored one of the earliest surviving landscape paintings in Western Art and were able to handle examples of some of the objects that can be seen in the painting. They also had an opportunity to sketch and to create a mini landscape of their own.
What a fun and informative day!