Year 5 express their creativity during a sketching workshop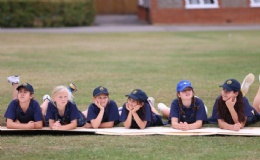 Year 5 enjoyed a sketching workshop hosted by Leighton Park School in the final week of term.
Thier Head of Art, Mr Wood, and Artist in Residence, Tom Scotcher, had set up a large drawing board for the pupils. Tom demonstrated the use of charcoal to effectively outline the horizon of trees along the upper edge of the Park and the students eagerly got stuck in to their giant masterpiece. They paid careful attention to the variety of foliage and the difference of heights and perspective needed to accurately recreate the view in front of them. Once the treeline was drawn the focus shifted to the sky and the spaces between the trees were sketched in. The overall piece was extremely effective.
You can read more here: Rupert House Artists Create Giant LP Treescape - Leighton Park