Year 4 Re-enact History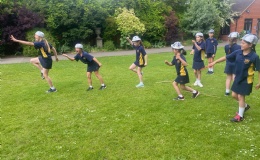 As part of our History topic this term, Year 4 went outside with some makeshift shields, swords and bows and arrows to re-enact the Battle of Hastings of 1066.
The children learned about the shielding tactics used by the Saxons as well as the trickery used by the Normans to ultimately win the battle. The children had a fantastic time pretending to battle and we had some brilliant slow motion acting skills!