Year 3 explore the world of Roald Dahl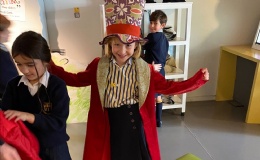 Year 3 had a great trip to Great Missenden today. They explored the town, including buildings that inspired Roald Dahl's work.
They also visited his grave which was up a big hill at the Church, and learned so much about Roald and his life.
As a child, although he was academic, he was a bit of a naughty boy at school! His spelling, even as an adult, was not great. He never used rubbers, instead he adapted drawings to make them work.
The children learned lots about collaboration, between Roald Dahl and Quentin Blake. They even tried some collaboration themselves when they role-played as illustrators and authors to create some new characters.
All in all it was a great day!