Year 2 visit Brighton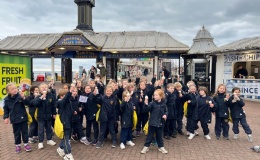 Year 2 enjoyed an exciting trip to the Sealife Centre in Brighton this week.
It was a brilliant day out for them all. The children had great fun discovering the different sea creatures in the aquarium, eating their packed lunches overlooking a pair of 83 year-old turtles, making some stone sculptures on the beach, and finally enjoying an ice cream on the promenade.
During our workshop, the children really impressed the aquarium worker with their knowledge of the layers of the ocean and how and why animals adapt. They got to design their own sea creature and show how they have adapted to their chosen zone of the ocean.
They were so well-behaved during the long coach journey and showed great listening skills in the aquarium and on the beach - well done Year 2!