Underwater exploration with Year 2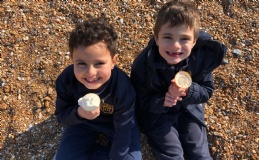 Year 2 enjoyed a fabulous trip to the Sea Life Centre in Brighton today.
They started the day with a snack on Brighton beach, then headed to the Sea Life Centre to watch the turtles have their breakfast.
They enjoyed discovering all kinds of sea creature inspired facts throughout the day.
Did you know that shark can swim up to 70mph?
Or that a turtle can hold its breath for 7 hours?
Or that a shark can last for up to a year without eating?
They had a great day at the aquarium and finished it off with delicious ice creams on Brighton beach before heading home!