Year 1 travel into Space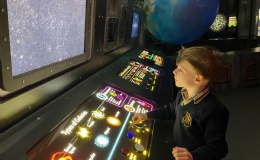 Year 1 had a brilliant day out at Winchester Science Centre.
The children started the day exploring the different exhibits before moving downstairs to explore Space exhibits and got to try out a space suit and lots of other interactive activities! They then had a workshop about rockets, making them in groups before seeing how far they would go. After lunch, they visited the planetarium and were transported around space, visiting each planet and even outside our Milky Way! Did you know Venus is covered in volcanoes and Uranus was originally called George?!
The children are now ready and raring to learn about Space after the half term. Who knew Science could be so exciting?!