World Mental Health Day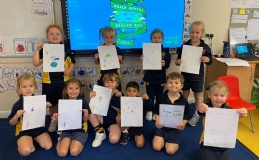 Rupert House celebrated World Mental Health Day on Tuesday 10th October.
All the children were encouraged to reflect on "What makes them happy" in the Pre-Prep and "What helps them to relax" in the Prep. They drew pictures or wrote down their thoughts. Mental health is different for everyone and it was interesting to witness the children's strategies that contribute to their wellbeing.
On Tuesday, the Prep children had a different kind of homework. They were sent home with a form to encourage them to share what is on their mind with their parents or carers as part of the ITV initiative "Britain Get Talking".
We understand that it was helpful for children to have time to talk with adults about what matters to them or share worries they may have.