World Book Day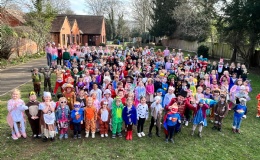 We had such a wonderful World Book Day this year. The children and staff wore some fantastic costumes which filled the school with a sea of colour and smiles!
We started with an assembly showing off all of our wonderful costumes before going off to do some fantastic activities.
Each pupil brought in a book from home to do a book swap.
Both Reception classes used a prompt from the Story Wizard to create their own stories based on The 3 Little Pigs. Reception B wrote The 100 Tiny Rabbits and the Big Bad Dinosaur and Reception S wrote The 3 Big Chefs and the Bad Gingerbread Man. They have made lovely illustrations and both classes have made their stories into books. They were all very proud to be authors and loved seeing all the costumes and talking about who they were dressed as.
Year 1 thought hard about who they came to school as and wrote character descriptions, going into detail about what they were wearing and why they loved their character. The children loved swapping books and were so excited to take home a new book!
Year 3 talked about the BFG and measured how big his feet may have been. They then practised measuring their own feet and seeing how much bigger the BFG's foot was compared to their own. They also created and described their own giants.
In the afternoon, Year 4 walked along the river to visit the Henley Manor Care Home to show the residents their costumes. The children also read them their own stories and extracts from some of their favourite books.
In their French lesson, they worked hard to describe the outfit of their book character in French. Madame Sheriff was impressed by their work and great use of adjectives!
In their special World Book Day lesson, Year 5 created beautiful personalised bookmarks to help them to keep their place in their reading books. The children were able to choose their own theme for their bookmark based on their likes and dislikes, and they had a great time decorating them in their wonderful costumes (while singing along to Matilda: The Musical!).
Author and illustrator, Hannah Peck, came in to visit Years 2 to 6 and gave them an inspiring talk about her books and drawings. She told the children about being an author, read some of her latest book and showed them how to create animal drawings using everyday objects like a blueberry or a party hat for inspiration. Many interesting creatures were created!
As they have been creating their own story books for younger children this term, Year 6 had lots of questions to ask about where Hannah gets her ideas from and how she illustrates her books.
Everyone even had a World Book Day themed snack and lunch. This included Peter Rabbit's carrot cakes, Winnie the Pooh's honey cake, Jack & the bean & olive salad and Gruffalo crumble!