We totally smashed it for Children in Need!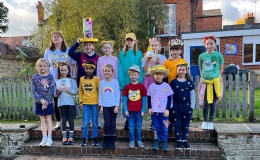 This year we wanted to raise more money than ever for BBC Children in Need. And thanks to the generosity of the Rupert House community, we have done just that!
Pupils came into school this morning wearing spots, or yellow, or both, in exchange for a £2 donation, while the teachers dressed as school children. The children also wore Pudsey ears and badges which they had purchased throughout the week, with the proceeds going to the charity.
Miss Jones and the school council held a competition for pupils to design Children in Need themed hats and there was a wonderful array of colourful entries from across the school. The six winners were chosen by the school council. They were Claudia F, Neve VB, Ottilie C, Piper R, Monty D and Bella H.
As a surprise for the children, Mr Armitage arranged for local breakdancing pro, John Johnny, to come in and run a Zumba session for the teachers. Even Mr Woodley donned a neon hat and got stuck in! The teacher session turned into a whole school extravaganza with children from Nursery to Year 6 doing the splits and shaking their hips to some of Johnny's funky beats! Parents were asked to donate to a Go Fund Me campaign in order to raise a further £250 in order for them to see a video of the event in return.
Watch the video here: https://youtu.be/ABejWtHz3Tg
The target of £250 was smashed in less than an hour, taking our total raised for Children in Need to over £1,200. Thank you everyone!