Walk to School Week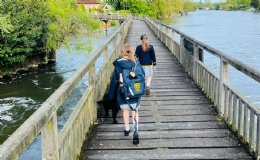 This week is Walk to School Week!
The weather had been kind to us this week for Walk to School Week! A number of our pupils walk to school most days of the year, but everyone who lives close to the school made a special effort to give it a go this week. Some walked, others rode bikes and scooters. One family even rowed to school from their house across the river!
According to the charity Living Streets, Walk to School Week is a fun and engaging week-long activity for primary schools which has been built to make pupils experience first-hand the importance of walking to school.
Through this challenge, children will be well on their way to reaching their recommended 60 minutes minimum of physical activity per day before even reaching the school gates!
Walk to School Week fits in nicely with Mental Health Awareness Week which we are also taking part in this week as physical activity is proven to be beneficial to the mental health of a child.
Experts say physical activity allows children to have a better outlook on life by building confidence, managing anxiety and depression, and increasing self-esteem and cognitive skills. Exercise also releases endorphins, which correlates to a happy child.
We hope everyone has enjoyed getting up and out this week for their sunny journeys to school!