This Week's Happy Hub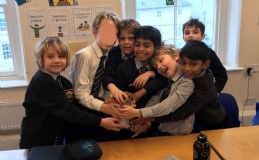 In the Happy Hub this week, the prep children talked about resilience and confidence.
Madam Sheriff worked with the boys in Years 4, 5 and 6 to reflect on Resilience. The children were encouraged to think about the things they do well and then they used the 'Resilience jar' to reflect on situations when things don't go so well. The children had lots of great suggestions to overcome setbacks such as learning from mistakes, not giving up and asking a teacher for support.
Mrs Harris had a group of girls in Year 4. They each added things they were good at to a 'Confidence jar'. They were very supportive of each other and shared ideas. There were children believing in themselves to be good at all manner of things including water-skiing, skipping, playing the piano and looking after younger siblings. They then talked about resilience and what it means, before also creating a 'Resilience jar'. The children were very open and realistic.
Another fab week in the happy hub!