This week's Happy Hub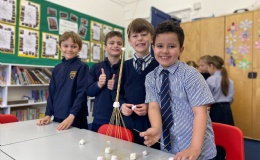 The Happy Hub activities to promote collaboration continued with children in Years 3 and 5 this week.
The children demonstrated great teamwork and enjoyed building tall structures with marshmallows and spaghetti. One team even managed to build theirs up to 80cm!
A great communication exercise and lots of fun too.