The great outdoors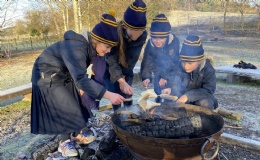 The frosty weather has not stopped us getting out and about this week!
Year 1 had a super afternoon at forest school on Thursday. The children all put on their layers and headed out in the cold. They made natural bird houses and warmed up with a toasty marshmallow by the fire.
Years 3, 4 and 5 also ventured out for their Outdoor Learning lessons with Mr Dwinell. Some of them stopped to feed the ducks along the way, whereas Year 5 decided to toast their bread on the forest school fire!