Tasting the rainbow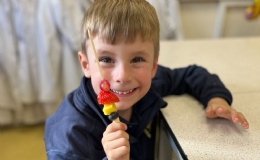 This week Dr. Pippa Gibson, Accent Catering's in house nutritionist, came to deliver some Eat The Rainbow workshops with our pupils.
Dr. Pippa talked about the importance of eating all the different colours, giving examples such as orange fruits and vegetables can help with seeing in the dark due to their beta-carotene content, while red fruits and vegetables are good for your heart as they have high levels of a special antioxidant called lycopene.
At the end of each session the children were invited to make a rainbow fruit kebab to eat. Dr. Pippa looks forward to coming back in the Spring term to run more of these workshops with the remaining pupils.