STEAM week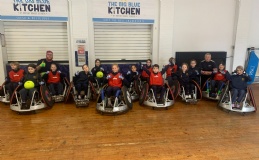 13th to 17th March 2023 was STEAM week at Rupert House. Our theme this year was STEAM in Sport.
Here's what we've been up to...
To kick things off on Monday, we had a very special visit from the one and only Premier League trophy and Mr Molnar who gave the children an absolutely fascinating talk about the roles of Science, Technology, Engineering, Art & Maths in football.
We also had a visit from Berkshire Banshees Wheelchair Rugby Team who talked about Wheelchair Rugby. Mr Armitage and Mrs Fletcher demonstrated to the whole school during morning assembly, before the Year 4s then enjoyed a morning of learning the game themselves during their PE lesson.
On Tuesday, the children enjoyed a variety of fabulous workshops presented by Sian from Science Oxford. Year 3 learned all about the 'science of magic'. Children and teachers were baffled at some of the 'tricks!' They now know that much of the magic is actually science. Magnets, counter waiter and special absorbing plastic were all part of the act. The children are now armed and excited about trying out some science magic at home!
Reception and Year 1 loved learning about the properties of different materials. They found out what might make a good anchor as well as discovering which materials would make a good bouncy ball!
Year 4 had great fun in the Art room, working collaboratively to create a football pitch print!
On Wednesday, Mr Tarling, a Rupert House parent and Silverstone Race Instructor, showed us a 1963 Lotus Cortina which is a track and rally racing car, owned by a local collector. He drove it to the school and let the children explore it. They enjoyed getting strapped into the racing seats and seeing the shiny engine.
Sam Hoskin spoke to Year 5 and 6 about blindness in sport. They learned about how different sports and sports equipment can be adapted for blind people, and heard about Sam's own experiences playing goalball and blind cricket for Great Britain.
Some of the Pre-prep children enjoyed making and tasting healthy smoothies!
On Thursday morning we had a visit from Matilda Macartney who is an ex Rupert House pupil and very keen rower. She talked about her rowing and was hugely inspiring to the children - even letting them try on some of her many medals!
The year 5 pupils went to see the rowing facilities at Shiplake College. They looked at the equipment and learned about the composition of the boats and oars. Did you know that carbon fibre blades are much lighter than wooden ones, and much more expensive too! The children then went to the DT department at the college where they made their own iPad stands which they laser engraved with their names!
To conclude the week, Mr Seddon came in to talk to Years 5 and 6 about bikes and cycling. He explained the different kinds of racing, about time trials, and let the pupils have a go on his specialist bike. They found out that an average cyclist can produce an average of 310 watts in 7.5 minutes. Professional cyclists can produce even more and cycling a bike fast can even power a toaster! There's lots more to being a professional cyclist too - it's necessary to think about fuel. Good nutrition and the use of energy drinks is important for all keen cyclists.
Reception spent the week making gingerbread men and experimenting with them. They discovered what happened when the gingerbread man went into water and then designed ways in which they could get them safely across a river. There were some very inventive ideas such as a bridge, a magic carpet and a wetsuit!
It was wonderful to see the children so interested and inspired by the various visitors and activities and many thanks to all the parents and former pupils who so kindly offered to be involved in the week.