Spelling Bee stars!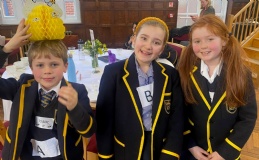 On Friday 20th January Mrs Clough took six very excited (and nervous!) Year 5 children to the annual Spelling Bee at Queen Anne's School in Caversham.
After a delicious lunch of sandwiches and brownies, and being given our team names of "Sticky" and "Keeper", the games began. First up was "Last Student Standing", in which all the children had to spell words in turn, with them getting increasingly harder until everyone had been eliminated. Our two teams did incredibly well in this challenge, and spelled some really tricky words! Next up was the speed round, which required the children to spell as many words correctly as possible in two minutes.
Team Sticky achieved second place in the first round, and came joint first overall!
Both teams did the school and themselves proud, and were a fantastic representation of Rupert House. To stand up and spell words in front of over a hundred people is such a brave thing to do and Mrs Clough and the children's parents were so proud of them.
We already can't wait for next year!