Shiplake College Junior Maths Challenge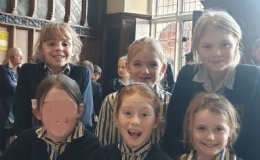 On Tuesday afternoon a team of three Year 5 children and three Year 4 children took part in the Shiplake College Junior Maths Challenge.
Rupert House was represented by Bella H, Jemima J, Aoife S, Tillie L, Alice V and Eloise W. The challenge proved great fun with lots of mathematical problems to solve and even involved a bridge building round where everyone had to work as a team to construct a bridge that would span a distance of 50cm out of newspaper and tape.
Luckily, the design of the Rupert House bridge withstood the given weight when tested and it looked very impressive!
The final winners of the challenge were a team from The Beacon School.