Rupert House Riding Club Rally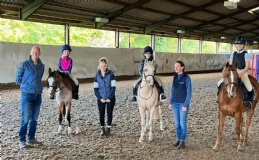 Last week we held our first Riding Club rally of the new term. Team Rupert House came in force to Checkendon Equestrian Centre and held two sessions for our young riders, from Reception through to Year 5.
They came with lots of enthusiasm and determination! The rewards were there to see, with some beautiful pole work, tidy transitions and above all else big smiles. All topped off with biscuits and hot chocolate.
We are now busy planning the next session, and hope to include an event for children who are keen to be involved but do not have their own pony.
Please contact the school office, or Polly Armitage directly, if you would like further details.