Reception go back in time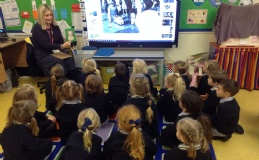 Evelyn's Grandma, Rose, came to visit both Reception classes to talk about what going to school was like when she was 5.
She came in as part of their 'Understanding the World' topic where the children learn about the past. She told them that she had to take her own dinner money to school and give it to the teacher and it cost 12p a week! She also said the pupils were split into 2 separate yards at playtime – one for the boys and one for the girls.
The children were shown a big blackboard is too - it's quite different from the electronic boards we have in school today!