Pre prep musical talent on display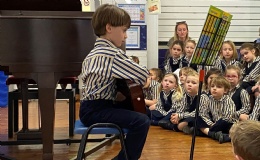 On Thursday afternoon we were treated to a lovely afternoon of performances courtesy of children in Year 1 and 2.
The children showed such courage performing to their parents in the hall and it was great to see such a variety of different genres of music and instruments, being played.
Thank you to the class teachers for helping to organise the concert and for all the parents for coming to watch. We hope to run more frequent events like this in the future and look out for a Drumming Club performance before the summer holidays, too! More details to follow next term.