Parrots flock to pre-prep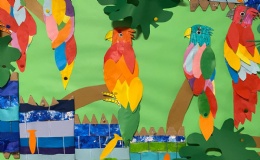 Deep by the Amazon River, a wild flock of colourful Year 1 parrots are gathering...
In Art, we have been collaging. To make our Amazon River, we tried weaving for the first time, using a range of different blue and green materials. Then made beautiful parrots using different coloured paper and coloured in their heads.