Nursery visit Bucklebury Farm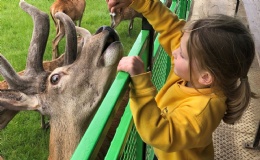 The Nursery children had the best trip ever to Bucklebury Farm!
They met all kinds of animals from tall runner ducks to very large pigs, and a lot of naughty goats (which was perfect for our theme this week '3 Billy Goats Gruff'),
We walked through the woodland trails trip-trapping over the trolls bridges and playing in dens along the way.
The highlight of the trip was the deer ride where we met and fed so many beautiful deer and even saw a little fawn born earlier in the week.