Nile house charity donation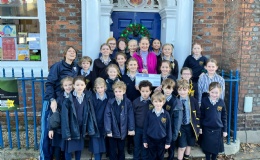 Pupils from Reception to Year 6 across the school, collected the money from friends and family after completing a whole school runathon which was organised by pupils from Nile house in November.
Thames valley Animal Welfare is a local charity specialising in the rescue of abandoned, stray and unwanted cats and kittens. They are based around the wider Reading/Henley-on-Thames area, covering a 15 mile radius of Reading. Maggie said, "We have been amazed at how much money was raised and we are very grateful for the generosity of parents and families of RH for raising so much money for our charity."
As a school, we are also very grateful for the generosity of the Rupert House parent community. It's wonderful to be able to support so many local charities.