Newspaper Club publish the Rupert House Herald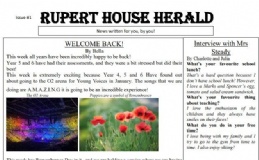 The children in Newspaper Club have been working very hard in the past few weeks to learn about the news, reporting and deadlines.
They have interviewed various members of staff, have been researching current affairs and have ensured they are up to date with all the goings on in and around the school. Our first issue is the result of lots of hard work and collaboration. The children are very proud of themselves and were incredibly excited to see something they had contributed to in print for all to see!