News from the Art Room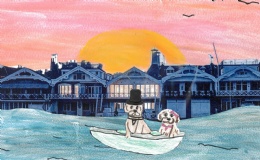 A huge 'Well done' to all the Prep children who have worked so hard on their Art this term.
The Henley Youth Festival Art Exhibition is back and will be held in the Thames Room at the River and Rowing Museum on Saturday 12th March and Sunday 13th March. It will be open to the public between 11:00am and 4:00 pm on Saturday and 11:00am and 2:30pm on Sunday.
The organisers hope to include all of the work submitted by Rupert House; there will be many pieces of very colourful art on show so it will be well worth a visit.
Congratulations to the following children who are invited to the prize giving ceremony on Sunday 13th March:
Tillie L and Zara M - 1st prize 7-8 (2D)
Clemmie W - 2nd prize 7-8 (2D)

Sasha H and Heidi C - 2nd prize 9-11 (2D)

Maya S - 3rd prize 9-11 (2D)

Julia M and Juliet T-S - Highly Commended 9-11 (2D)

Jessica C - Highly Commended 9-11 (2D)

Ava G and Olivia W - Highly Commended 9-11 (2D)

Chrissie W - 2nd prize Primary 3D