Measuring week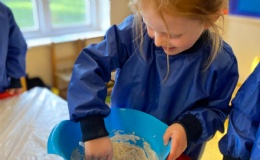 It's the best week of the year in Maths...
...it's measuring week! On Monday, Year 1 practised their weighing, predicting which items would be heavier or lighter before finding out if they were correct.
Today, in 1P we learnt that you can measure things in lots of different ways. We used spoons, cups, jugs and pipettes to make play dough before getting to play with it.
In 1JP, the children made play dough. They ended with a dough disco to Elton John music and the children had a great time!
We are going to end the week measuring the length of items around the classroom.
Maths is so much fun!