Kindness matters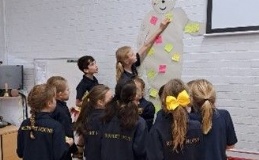 Year 5 acted as kindness ambassadors this week in an initiative designed to align with 'Anti-bullying Week' and 'Children in Need' which is on Friday.
They took time out of lessons to spend time with Pre-Prep and generally kept their eyes open for acts of kindness throughout the week.
Thank you so much to Year 5, who have done an excellent job and well done to all the children across the school. Our school is full of kind and thoughtful pupils and lots of staff were also spotted being kind. WELL DONE Rupert House!
During the week, all the children were encouraged to put kindness first, remind themselves of how lucky they are and to think of those who are less fortunate.