International Week 2023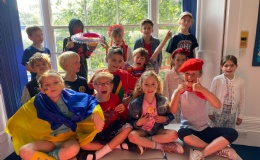 This year we celebrated International Week from 5th to 9th June.
Monday
We kicked off the week with a visit from French motorbike racer, Sylvain Barrier who came into school to talk to the nursery children. He showed them his race kit and his bike and even let them each have a little sit on the huge seat! Everyone was super excited to meet him and the children loved hearing about all his job and watching him race on the big screen.
Zach, in year 5 also talked to his year group about living in Singapore and Georgiabelle in Year 4 talked to her peers about Washington DC. Her mother came in too, bringing with her some delicious muffins!
Tuesday
On Tuesday, Year 4 heard all about volcanoes, specifically Krakatoa in Indonesia, from Mr White who is a Geologist and Ms Loisel talked to Year 6 about New Zealand. She shared an excellent presentation with the children who learned some fascinating facts about the geography, culture, wildlife and language of the country. They even had a go at a traditional dance of New Zealand!
In their French lesson, Year 4 have been learning about France, French landmarks, food and famous French people. They enjoyed making their own Eiffel Tower with sticks and glue!
Wednesday
Wednesday was super busy with a number of parents and grandparents coming in to talk to Year 3 about Poland and Greece and to Reception about India and Romania!
Mrs Patel taught Reception S all about India and told them about her heritage. She brought in some traditional Indian snacks and Indian dress which the children very much enjoyed. The girls loved choosing a bindi to wear together with bangles and a sari.
Mrs Somauroo spoke to Reception B about Romania. She showed them some traditional Romanian outfits, one of which was over 100 years old and would've been worn to parties or special occasions. She and the children baked some Papanasi which are delicious Romanian cheese doughnuts.
Year 1 focussed on learning about Georgia. They learned all about the different types of food, landmarks, the Georgian flag and heard from Mrs Hatton about all the best places to visit. They wrote a fact file all about Georgia and made some delicious Mchadi (a Georgian cornbread delicacy) as well as using cotton buds to make the flag of Georgia and designing their very own Georgian tablecloth with pictures that are meaningful to them.
Mrs Rowe and Matilda taught Year 3 all about Poland (Polska). They learned how to spell and pronounce their names in Polish as well as some greetings including 'Cześć' which is 'hello!' They also found out what school was like in Poland including that children have spelling tests every day! Poland has borders with 7 countries. You might wake up in Poland and go shopping in Germany. Another highlight was hearing videos sent directly to us from two Polish children called Mikolaj and Pola who live in Warsaw and Kraków.
Mrs Calvorcoressi and Belle taught Year 3 about Chios, the fifth-largest Greek island. Belle's ancestors are from Chios. It has a rich maritime history and the famous poet, Homer came from and taught in Chios. The children were incredibly lucky to sample some amazing food including Mastic which is a resin obtained from the mastic tree. It is known as the tears of Chios and is worth more than its weight in gold! They also enjoyed tasting Greek flatbread and dips!
Year 4 chatted to children in a Third Grade class (the equivalent to Year 4 in the UK) in the city of Ithaca in upstate New York in the USA. They learned about many interesting similarities and differences between our two schools and educational systems.
Thursday
Reception had a visit from Mrs Chamberlain whose first name, Amia, originates from India. She spoke to them about Diwali and they coloured some Mandalas.
Friday
Mrs Grimsditch came in to see the Nursery children. She sang a French song and read them the story of Heidi in French, whilst Mrs Tonks came in to talk to Year Reception about Scotland. Year 3 also had a visit from Mr Groh and Mrs Hayes who talked about Germany and together they made traditional gingerbread hearts.
A couple of talented Year 6 children taught Year 2 how to Irish dance in the hall!
The Year 5 children attended a fantastic presentation on Brazilian food held by Clarissa's mum Mrs Jones. She spent two hours cooking at home to prepare delicious Brazilian Cheese Bread Balls for the children. The children tasted "Brigadero" or Brazilian truffles and learned about Brazilian dishes and the origin of Tapioca. What a nice way to end the week!
How lucky we are to have such incredibly generous and knowledgeable parents.