International Week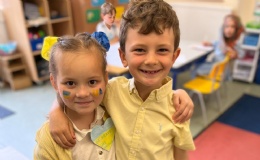 This week at Rupert House we celebrated different countries from across the globe.
Each day we had a themed lunch menu, with food from America to Mexico, and throughout the week we welcomed members of the Rupert House parent community into school to talk about the countries that they are most passionate about. We had a wonderful week, with activities including pretzel, pasta and cannoli making, dried cod, kimchee and cheese tasting, an Indian wedding, Freedom song singing and chopstick mastering.
On Friday, the school was a sea of colour - it was wonderful to see everyone dressed up to represent the country of their choice.
Madame Sheriff would like to thank all the parents who have kindly shared their knowledge or expertise of a specific country with the pupils during International Week. The children have really enjoyed learning about different cultures, languages, religions and cuisine. Thank you so much for all your support. Ačiū! Xie xie! Danke! Takk! Obrigado!