House music fun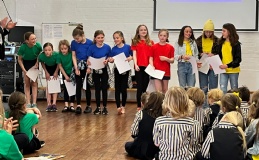 Prep School had a really fun afternoon on Wednesday, performing in the annual House Music event.
This year's theme was 'UK and Ireland' and each House was given the challenge of creating a House song and performance inspired by their county (Everest- Wales, Sahara-England, Nile- Scotland and Amazon- Ireland).
Each of the Houses also had 3 soloists (a singer, a pianist and an instrumentalist) who performed brilliantly at the beginning of the concert. These children were:
Evie W, Issi R, Jemima J(Amazon)
Oscar T, Piper S, Millie C-H (Everest)
Heidi C, Orla H and Daisy W (Nile)
Ovia C, Arabella M, Annabel S (Sahara)
A massive well done to all the prep children and thank you to the prep staff for really getting into the spirit of the event!
Jennie Breen
Head of Music and Performing Arts