Helen and Douglas House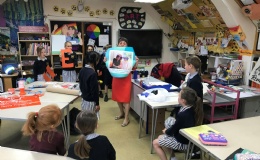 Many thanks to Kathy (who is Sophia and Zahra's Grandmother) and Alyson who came in an did a talk and some role play to help Amazon house gain a better understanding of the charity Helen and Douglas House.
We learned that their focus was on providing much-needed respite care for families in very challenging circumstances.
Children helped with a role play explaining how donating to a charity shop can help the charity, but also help make everyone feel good.
Finally, we discussed the idea of fundraising and what Amazon House might do to raise funds and support Helen and Douglas House. Watch this space!