Fund a Future Uganda update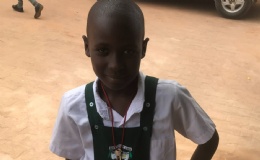 Since September 2021 FORH have supported the wonderful Fund a Future Uganda (FAFU) charity which was established by a prior Rupert House pupil, Lara Lambert.
FAFU was established to support the education of under-privileged children since in Uganda the government schools charge fees and require full uniform and shoes which is just not possible for many families. As the chosen FORH charity for the last two academic years, money raised from the FORH cake sales has been sent direct to the charity to support the incredible work they do for the children.
Additionally since September 2022 FORH has provided additional funds of £700 per annum to sponsor a child called Babirye through primary school. Babirye is in year 3 and lives with her mum and siblings in a slum in the suburbs of Kampala. Her mum is very supportive of Babirye's education and works hard as a cleaner in the local area. But things are very tough for them and the FORH support of Babiyre's education lifts a huge burden for the family.
Babiyre is doing well since FORH enabled her to start school, and she is happily in a class with her twin sister. Babiyre is sociable and confident and has managed to pick up English in a short space of time and is now one of the best performing in her class. We are hopeful Babirye will soon be able to send letters to Rupert House so our children can begin to get a feel for her life at school there.
The charity is so grateful for the parents of Rupert House for being able to give Babirye this opportunity. For more information on the charity please refer to their website Home - Fund A Future (fundafutureuganda.org).