Fund a Future Uganda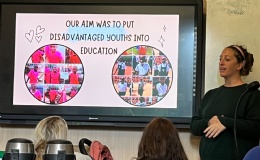 It was a pleasure to welcome Lara, a former RHS pupil and founder of the charity Fund a Future Uganda (FAFU), in to school today to hear all about her work.
Lara, and two of the teenagers the charity has been supporting, talked to the children in assembly this morning, and then to the Friends of Rupert House parent body. It was both informative and thought-provoking for all.
According to the FAFU website, only 25% of youths in Uganda are reported to complete Primary School, with only 17% of those who do so going forward to enroll in Secondary School. This staggering statistic is evident on the ground in Uganda and is why FAFU came into existence in 2016. In their first year of operation the charity managed to place over 50 students in schools, vocational institutes and universities, depending on their situation.
The charity works by connecting willing sponsors to needy youths in Uganda. Their unique, personal touch, enables sponsors to build long-lasting relationships with the child they are sponsoring. These relationships not only encourage the students to work harder, as they know someone somewhere is rooting for them, but they also make the experience more enjoyable for the sponsor.
Sponsorship is from just £600 per year for a primary pupil or £800 per year for a secondary pupil. It is possible to be an individual sponsor, or to join up with friends to sponsor as a group. Here, at Rupert House, we donate profits made from cake sales and other events to FAFU.
Please do visit their website to find out more about this incredibly worthy cause:
Home - Fund A Future (fundafutureuganda.org)