Food council give feedback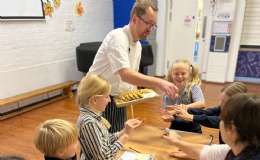 The new school food council group met today to talk to Barry, our Head Chef, and Angela, Operations Manager at Accent Catering.
Made up of a pupil representative from each class in Years 1 to 6, the purpose of the group is to gather feedback from peers on the lunch and snack menus and to give suggestions for new or previously enjoyed menu options.
The group concluded that the fish & chips, toad in the hole, burgers, pizza and gammon roasts are the favourite lunches. They like the sausage rolls and ham & cheese turnovers for snack, and the apple crumble and syrup sponge for dessert.
They requested that there be no chilli or curry on the menu.
The jury was out on the chicken pie and macaroni cheese!
Requests for snacks included donuts, crumpets, chocolate brownies, waffles and nachos.
It was also suggested that fruit and yoghurt be available at breakfast club each day.
Barry explained that the menus are on a 3-week rotation and that each month we have a colour to focus on to help us 'eat the rainbow'. The colour for November is yellow. He gave them each a cookie to try with a secret yellow ingredient which they had to close their eyes to test. Some of them correctly guessed that it was sweetcorn!
There is a new snack menu coming soon. Barry read it out to the members of the food council and there were lots of cheers! It included paninis, banana muffins, sausage rolls and ham & cheese turnovers.
The group will consult their peers again ahead of the next food council meeting.