First meeting for the Food Council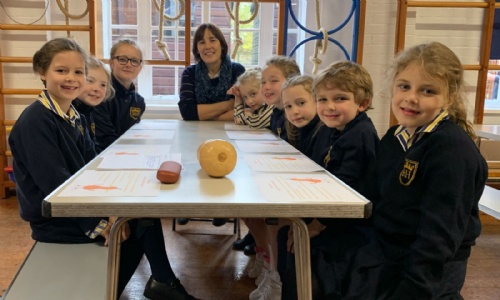 Our First Student Food Council meeting took place on Wednesday this week between the Food Council members, Mrs Newman and Chef Barry of Accent Catering.
The children were given the opportunity to discuss our seasonal vegetable of the month – the butternut squash. Not only did they discover that butternut squash is a good source of Vitamins E and A; and that it can be used in both sweet and savoury dishes and has a nutty flavour, very similar to a pumpkin; but they also were given the opportunity to taste dishes containing butternut squash including a chicken and butternut squash lasagne. Other dishes tried and tested were veggie tart and baked cheesecake, all of which the Food Council pronounced as 'delicious'. As a result, these dishes will be incorporated into the school menu in the future.
Also on the agenda were 'snacks'. The children explained the snacks they really like which included sausage rolls, flapjacks, crumpets, cheese and crackers and cookies and asked if the carrot scones and energy balls so enjoyed by children last year, could be reintroduced to the snack time menu.
"It was an extremely constructive first meeting" said Mrs Newman, Deputy Head (Pastoral). "The children had clearly given a lot of thought to the food served at school and were very conscientious about making healthy suggestions which could be incorporated into the school day. They were also very willing to try new and nutritious dishes which has helped provide valuable feedback to Accent and will help shape our menu in future. I am really proud of them all."