First Food Council meeting of the term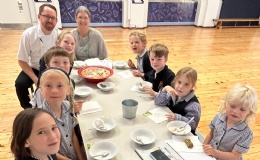 On 27th September, the new food council committee members met for the first time this term with Barry and Angie from Accent Catering, and Mrs Newman.
Together they discussed the school menus and the children put forward their comments and ideas on the current school lunch and snack menu after having asked their peers for feedback.
The main conclusions from the meeting were:
A cheese sauce will be provided on pasta days to enable those who like it to have macaroni cheese
Watermelon will be provided for snack instead of lunch on some occasions
Fruit salad will be provided as dessert two days a week instead of once a week
The crisp flavour in packed lunches will be changed from ready salted
Hot chocolate will be provided with the snack one day a week during the colder months
Hot chocolate will be brought back for the children who have been swimming as a post-swim treat during the colder months
The children love the cheese and tomato paninis at snack times and would like to have them more often
The children like the new sausage wellington which was on the menu this week
The food council members tried delicious portions of Eton Mess provided by Barry. This month is 'Red' month and we talked about how red fruits, like the ones in Eton Mess, are good for the heart. Also, next week is National Super Hero week and the kitchen will be providing 'Incredible Hulk crispie cakes' for dessert one day. We tried them and they were delicious!
The next meeting will be in the Spring term.